BioDownloader Internet usage. Firewall settings.
BioDownloader is a network application that requires a properly functioning Local Area Network (LAN) and/or Internet depending on the user needs.
Internet usage
When you start the application for the first time, you will be notified about the ways in which it accesses the Internet: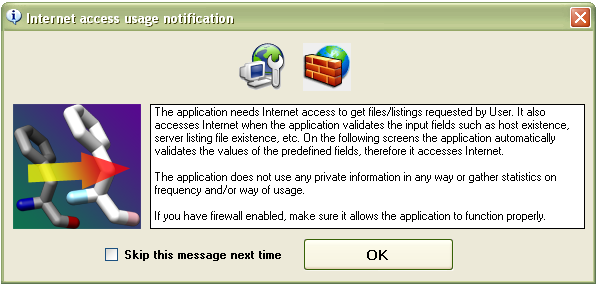 In short, the application doesn't use any private user information. BioDownloader needs Internet access solely for the user's requests purposes.
Firewall settings
If your computer has a firewall application installed, make sure you configure it properly to let BioDownloader function normally (make ftp/http server request to validate pre-filled input fields, connect and login to ftp/http servers, get listings from ftp/http servers, download files and etc).
The easiest way to let BioDownloader access Internet is to click the "Allow" or a similar button in your firewall pop-up window (most firewalls have such notification pop-up windows and usually by default they are enabled in the firewall settings):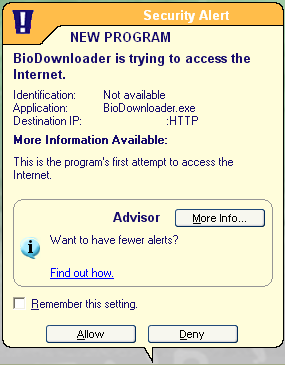 The default Windows Firewall doesn't need to be configured. It only blocks the outside sources from connecting to the local computer, not the outcoming requests. If you switch the FTP connection mode from its default Passive value to Active in the BioDownloader, you might need to add BioDownloader to the Exceptions tab page of the Windows Firewall.