Important Notice: The PDB ftp server moved from ftp.rcsb.org to ftp.wwpdb.org and changed the PDB extension from *.ent.Z to *.ent.gz So if you are trying to download or update PDB files, please change "Name / IP address" to ftp.wwpdb.org and "File mask" to *.ent.gz For other data files downloaded from the PDB ftp server, just update the server name.


---
Description
BioDownloader is a program for downloading and/or updating files from ftp/http servers. The program has unique features that are specifically designed to deal with bioinformatics data files and servers:
optimized to work with vast amount of data and very large file sets (~ 10,000 - 100,000).
allows the selective retrieval of only the required files (file masks, ls-lR parsing, recursive search, updates)
has a built-in repository containing the settings for the most common bioinformatics download needs
built-in wizard for batch post-processing of downloaded files (archive extraction, file conversion, etc.)
capable of performing multiple download or update tasks simultaneously
BioDownloader was designed to have a very intuitive and user-friendly graphical interface, allowing the user who lacks network-specific knowledge to learn the application step-by-step starting with the basic mode. Besides the intuitive BioDownloader's features that allow the user to use it out-of-the-box, BioDownloader provides the experienced user a vast set of fine-tunning options and advanced features.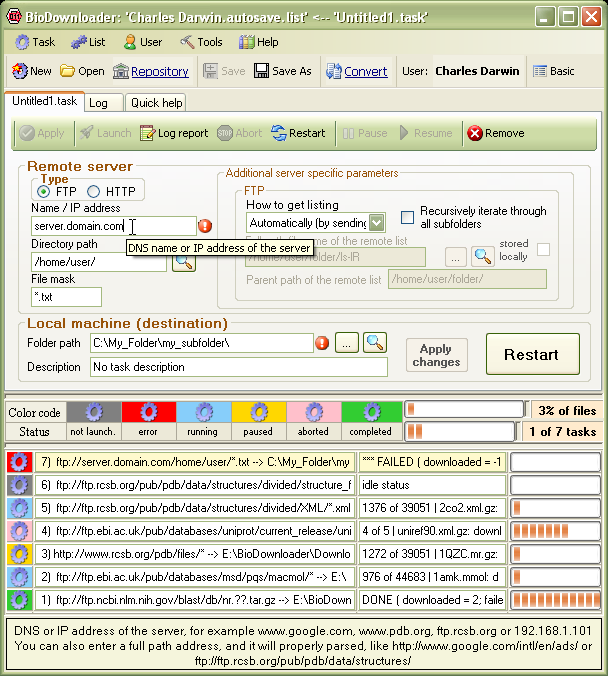 ♦ ♦ ♦
For the user convenience BioDownloader has a built-in task Repository to download and update the most commonly used bioinformatics databases in just several mouse clicks.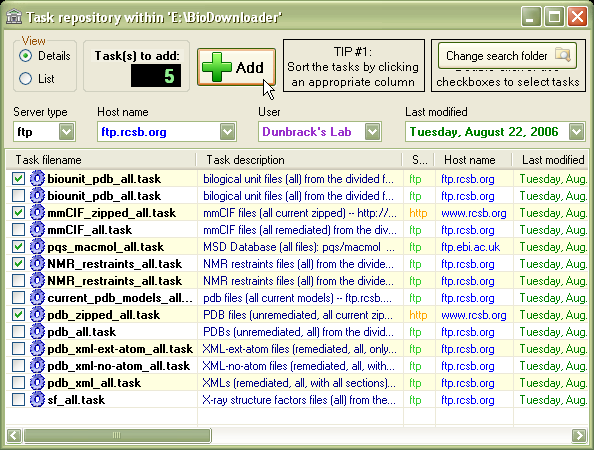 ♦ ♦ ♦
BioDownloader has a built-in tool for rapid post-download file conversion and processing.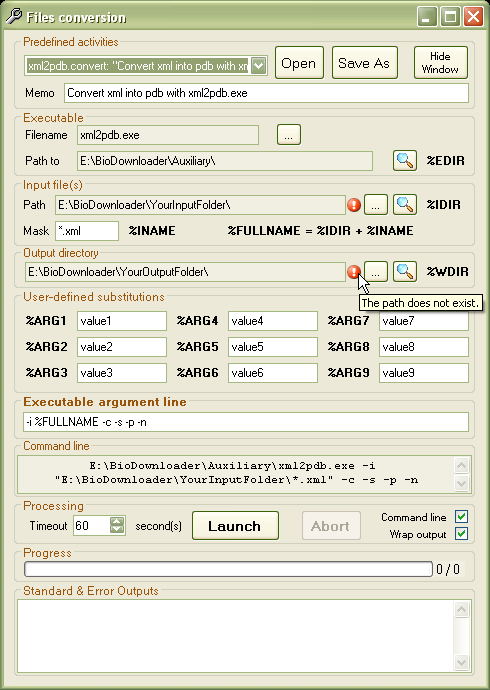 ♦ ♦ ♦
In addition, all download tasks, task lists, post-download processing/conversion activities can be saved, re-opened, modified, and shared with other users by writing such information into xml-formatted files associated with BioDownloader (*.task, *.list, *.convert).
---
Operating system Compatibility
Microsoft Windows® 98 / ME / 2000 / XP / 2003 / Vista
Mac OS with an installed Windows® virtual machine
BioDownloader is based on a platform-independent .NET technology. Currently, BioDownloader can be run on Microsoft Windows® family operating systems or Mac OS using Windows® virtual machine software. BioDownloader does not yet run properly on UNIX-based operating systems using the Mono project implementation of C#. The Mono project is under continuous development, so that BioDownloader should eventually be available for UNIX and Linux systems.
---
Publication
Maxim V. Shapovalov; Adrian A. Canutescu; Roland L. Dunbrack Jr.
BioDownloader: Bioinformatics downloads and updates in a few clicks.
Bioinformatics 2007; doi: 10.1093/bioinformatics/btm120
---
Contact
For comments, suggestions and bug reports contact the authors:
webdesign: Maxim V. Shapovalov and Adrian A. Canutescu